Why a Micro Wedding Checks All the Boxes
Have the intimate wedding of your dreams in the natural beauty of California.
Keep your friends and family safe using our up-to-date COVID-19 safety protocols.
Choose from our pre-selected A-list wedding venues and vendors and experiencing a luxury wedding on a smaller scale.
Save up to 75% of what you would pay for these vendors with our exclusive connections.
Micro wedding planned by Blissful Events. Photo by Jennifer Winfrey Photography.
---
By Blissful Events. Photos by Avec L'Amour Photography, Jennifer Winfrey, Weddings by Scott & Dana photography & Mike Larson Photography.
Micro wedding planned by Blissful Events. Photo by Weddings by Scott and Dana.
---
Don't Put Love On Hold Any Longer
Have you been dreaming of marrying the love of your life and don't want to keep postponing it?
Are you trying to balance keeping your loved ones safe while also celebrating this joyous occasion?
Do you have so much decision fatigue that just thinking about wedding plans is too exhausting to bear?
At Blissful Events, we want to help you marry the love of your life on your timeline with a safe, intimate, and luxurious wedding.
Event by Blissful Events. Photo by One Love Photography
What makes a Blissful Events micro wedding package special
We know planning a wedding in ordinary life is stressful. Planning in a pandemic is downright daunting. At Blissful Events, we take away the stress so you can focus on love!


We'll design the beautiful luxury micro wedding of your dreams in the gorgeous California landscape you want.


We'll take all the guesswork out of safety protocols so you can enjoy your day knowing your loved ones are taken care of.


We've carefully curated our best venues and vendors, so you get luxury quality for a fraction of the typical cost with one of our all-inclusive wedding packages.


We'll create an intimate and personal experience for guests who cannot attend your event in person so that you can include your traditional wedding guest list from the safety and comfort of their own homes.
Event planned by Blissful Events. Photos by Avec L'Amour Photography.
---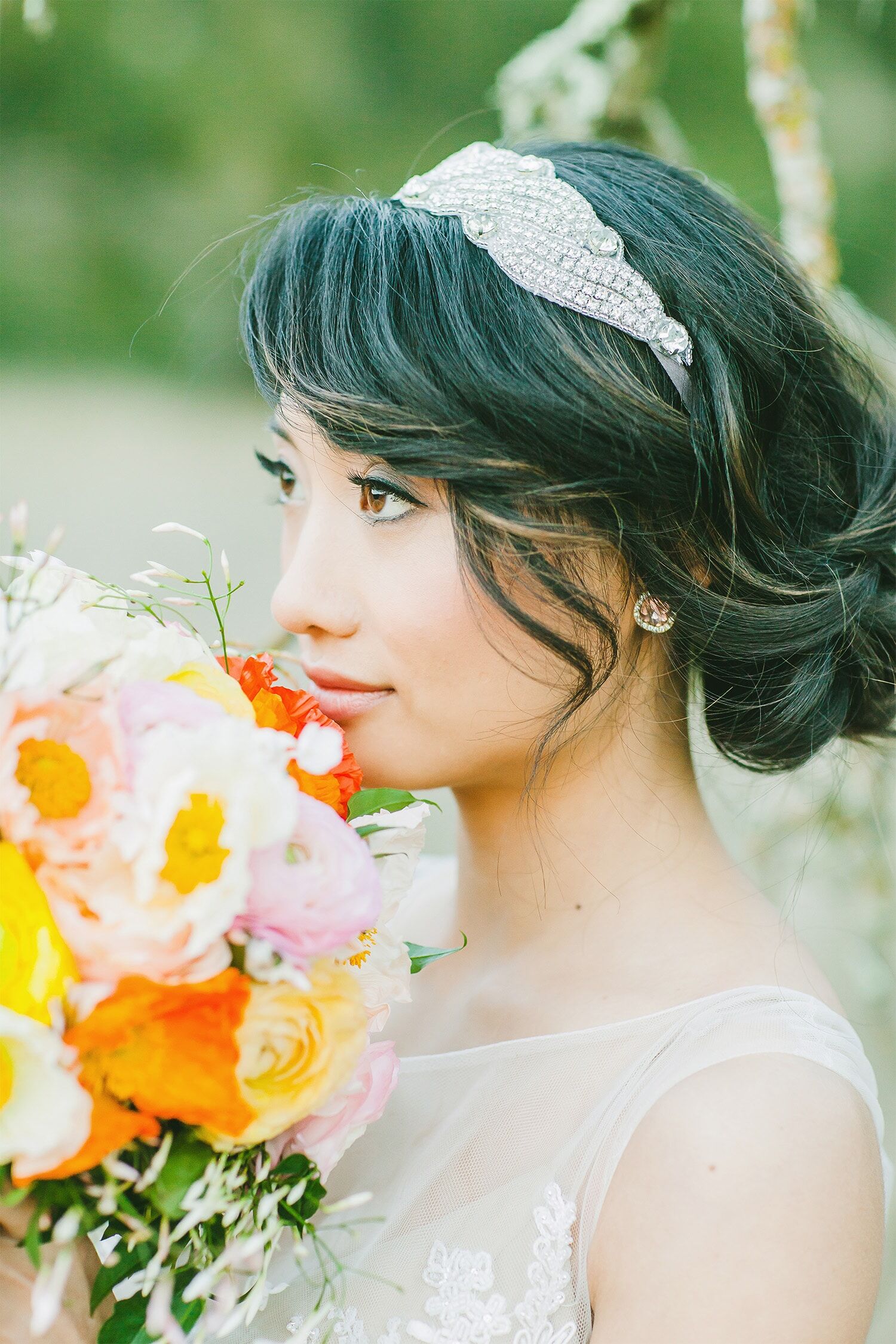 By Blissful Events. Photo by Mike Larson Photography.
---
Every luxury detail you want in an all-inclusive package
Our all-inclusive micro wedding packages is for up to 12 people for a few hours. They include:
Professional wedding planning team with more than 15 years of experience
Gorgeous California venue
Experienced and empathetic officiant
Talented photographer and digital prints gallery
Pinterest-worthy flowers
Delicious and decadent cupcakes
Wine selections for even the pickiest palates
Want more? We also offer upgrades such as additional wedding venue choices, videographers, innovative remote experiences and live streaming, and food and drink options.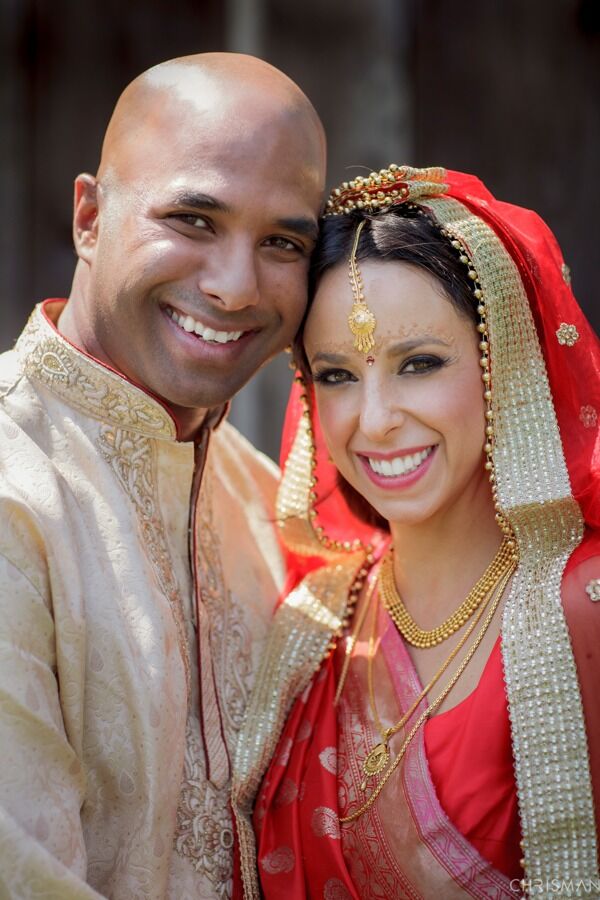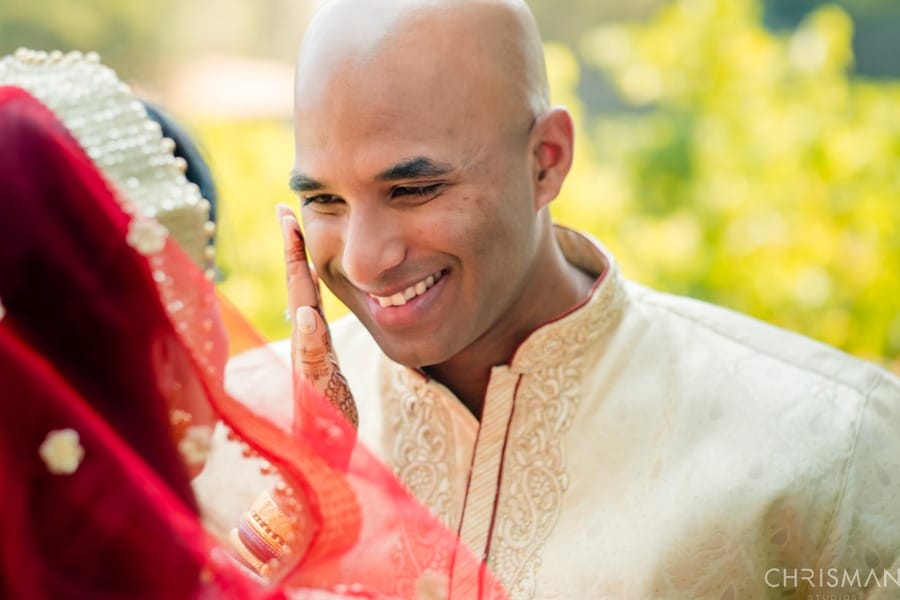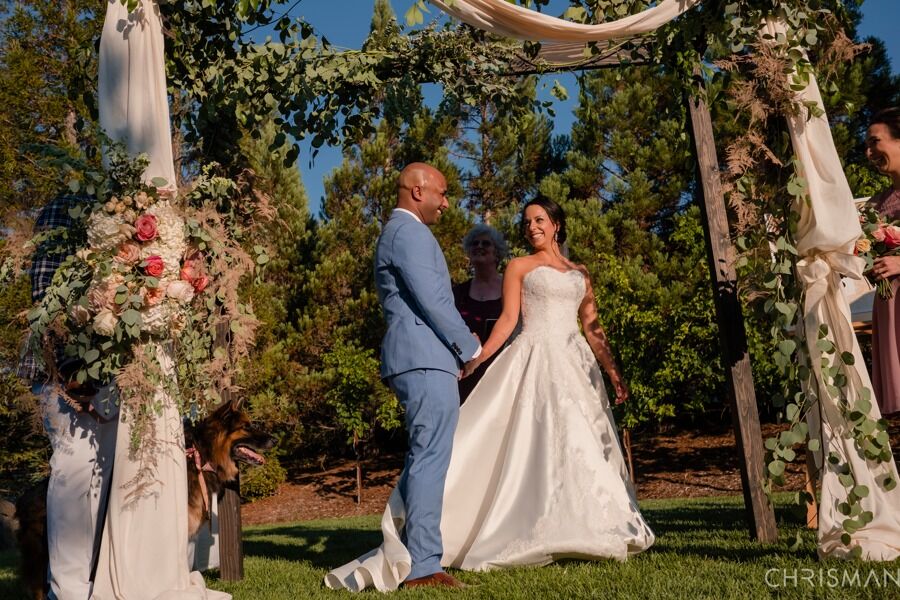 Wedding by Blissful Events. Photos by Chrisman Studios.
Pick your dream micro wedding in three easy steps.
Step 1.
Set up a call with Blissful Events today to explore if one of our luxury micro wedding packages is right for you.


Step 2.
Work with our wedding guru Samar Hattar to choose from our pre-selected A-list vendors to create your wedding in luxury style.


Step 3.
Enjoy one of the most important days of your life with friends & family in the safest way possible. At Blissful Events, your comfort, happiness, and safety is our priority.
Event by Blissful Events. Photo by Avec L'Amour Photography.
Host Your Dream Luxury Micro Wedding While Keeping Your Loved Ones Safe
Have you been dreaming of your wedding day for years, and the recent pandemic has made you postpone indefinitely or consider eloping in California? Just because 2020 has been fraught with chaos, it doesn't mean that love has been put on the backburner. If anything, this time has made it clearer that life is short, and what matters most is who we spend it with.
Samar Hattar, founder, and Event Planner at Blissful Events, makes it her business to create thoughtful, laid-back luxury experiences for couples on one of the most important and happiest days of their lives. So, when Samar realized that every single one of her 2020 weddings had been postponed, her heart went out to the disappointed couples who were changing their dates multiple times or postponing indefinitely.
But Samar loves what she does and has dedicated the last 15 years to creating joy and beauty for her clients. As we know, crises usually lead to creativity, and as Samar said herself, "Love is not canceled." This is why she started creating luxury micro wedding events in California to keep love alive while following strict COVID-19 protocols. But, she didn't want to ask couples to make any more compromises when it came to their wedding. So she brought in her top-tier vendors and venues to deliver the luxury wedding experience she's known for.
"We want to still create something small and sweet where everyone feels safe," Samar said. "Love is everything."
Samar Hattar of Blissful Events arranges flowers at an event. Photo by Rhee Bevere Photography.
---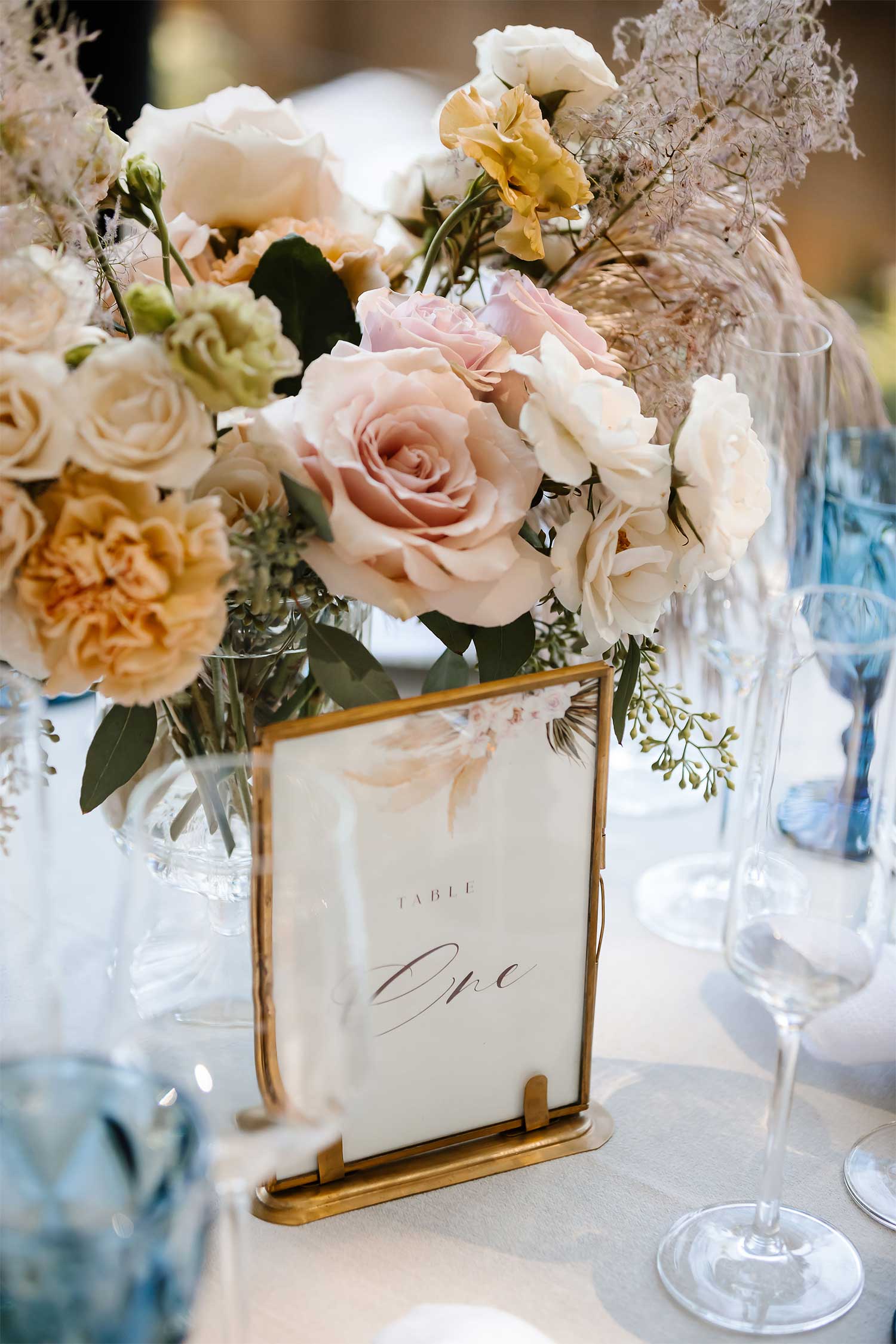 Micro wedding package planned by Blissful Events. Photos by Amy Little Photography.
---
Create a Laid-back Luxury Event with an Intimate Wedding Feel
Most couples still want an intimate wedding to share with family and friends. Unlike eloping, a micro wedding still allows your loved ones to participate in your day in a safe, responsible way that traditional weddings can't provide under current circumstances. Both Northern and Southern California provide magical wedding destinations where you and your guests can be surrounded by the natural beauty of the vineyard-splashed rolling hills of Napa Valley, the redwood forest ocean cliff sides of Big Sur, or the soft desert sandstone rocks of Joshua Tree National Park.
Some people choose to have a small wedding now with a larger celebration in a year or two. More introverted couples have expressed genuine excitement that they don't have to have a large wedding. The event's downsizing also allows more money to spend on upgrades to create a customized luxury feel.
Samar has gotten really creative with keeping the luxurious feel of the event while adhering to all safety protocols. She has even created a two-day wedding with 12 guests on the day of the ceremony and 15 on the day of the celebration. She also provides more than the typical online streaming experience for those who can't attend in person. They receive adorable instructions with tips on creating an intimate wedding night feel in their own homes, complete with twinkle lights, fancy duds, and partaking in beautiful moments such as the wedding toast with a personalized bottle of champagne.
You've Compromised Enough with the Pandemic. Don't Compromise on Quality.
You might be concerned that you're compromising by having a smaller wedding, but you don't have to compromise on quality.
Blissful Event's packages were created from Samar's 15 years of experience in the luxury wedding industry, using her A-list wedding venues and vendors. We offer two micro wedding packages: all-inclusive and customizable. The all-inclusive micro wedding package creates an intimate event for up to 12 people for a few hours. The customized wedding packages are made to order. And with these packages, you'll pay a fraction of the cost you would to rent out the same venues for a traditional wedding.
Our all-inclusive package includes the following:
Choice from one of our winery wedding venues
Choice of elopement photographer with a one-hour photoshoot and image gallery
Designed by Blissful Events. Photo by Christophe Genty Photography.
---
Event by Blissful Events. Photos by Christophe Genty Photography.
---
Our Officiant and Floral Designer
Officiant Stevi Hanson and Floral Designer Angella Floral Design will work with you to create your ceremony's look and feel.
Wine and Cake
We will provide a glass of wine from your venue winery for up to 12 of your guests, as well as cupcakes from one of our local bakeries.
Rentals
We supply chairs, an antique table, cupcake set, eatery, and vases to give the space a lavish feel.
Upgrades to this package include live video and music streaming, food, and other venue choices.
Event by Blissful Events. Photo by Michell Walker Photography
Stop Worrying, Start Wedding.
Planning a wedding takes a lot of decisions, and doing that during a pandemic can be crazy-making. You've already experienced a year full of decision fatigue, and with planning an event, you have the added pressure of keeping everyone safe. That's why our vendors and staff are fully trained on the most up-to-date safety protocols. Guests are sent safety instructions as well.
"You've worried enough," Samar said. "We want to help you enjoy your day."
Don't settle for eloping in California. Book your luxury micro wedding today.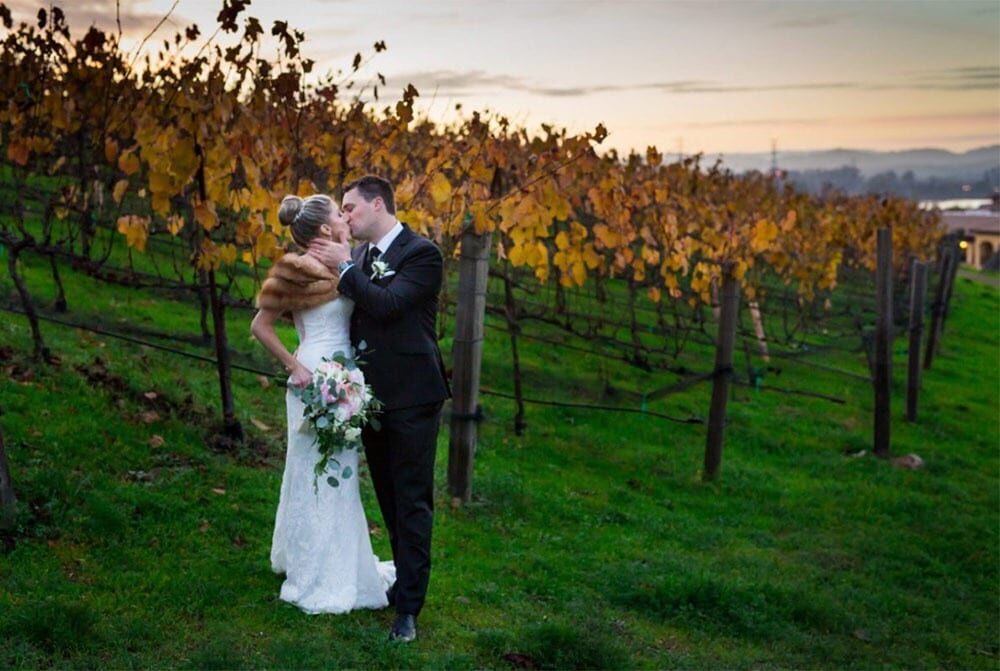 Wedding by Blissful Events. Photo by Tim Halberg.
---
Photo by Christophe Genty Photography.
Let's Plan Your Dream Wedding