Create an Unforgettable Winery wedding proposal
Create a custom, luxury wedding proposal your sweetheart will never forget
Experienced event planners ensure your proposal is amazing and stress-free
Includes professional wedding photographer to capture the perfect "I Do" moment
Create a one of a kind love story you'll both cherish forever
Winery Proposal Planning Locations
California
Napa Valley
Sonoma
San Francisco
Petaluma
San Jose
and more
Proposals planned by Blissful Events. Photos by Carmen Alvarez, Rhee Bevere Photography and Amy Little Photography.
Wracked With Nerves? Not Sure How to Make Your Proposal Special?
Don't Leave it to Chance…
Popping the question is a moment you will talk about for the rest of your lives. Make it a story you want to tell.
Show her how much you care. Wow her with your proposal.
Capture the moment beautifully with professional photography and a gorgeous backdrop.
Prevent mishaps. Make it a stress-free, magical event with professional planning.
Event by Blissful Events. Photo by One Love Photography
When You Find the One…
Guys, when you find the perfect person, and in your heart you know this is the one, you're filled with excitement to take your relationship to the next level. But you're also wracked with nerves because you're not sure how to create the perfect proposal.
Maybe you're not naturally romantic, and you don't have the first clue on how to make this proposal special.
Perhaps the most romantic thing you've ever done was buying chocolates and roses on the way to dinner…
So the idea of planning a proposal that really WOWS your partner, makes you quake.
You want to get this right, because popping the question is a moment you will talk about for the rest of your lives. It's a story you both will want to tell your kids and grandkids. You want the story to be romantic, awe-inspiring and jaw-droppingly good – not one where the listener cringes.
This will be one of the most important moments of your life. And one you need to plan meticulously.
Whether you're a seasoned romantic or you're slow to start in the romance area, it's perfectly ok… because you can create the ultimate proposal for your fiancée-to-be with just a few easy steps!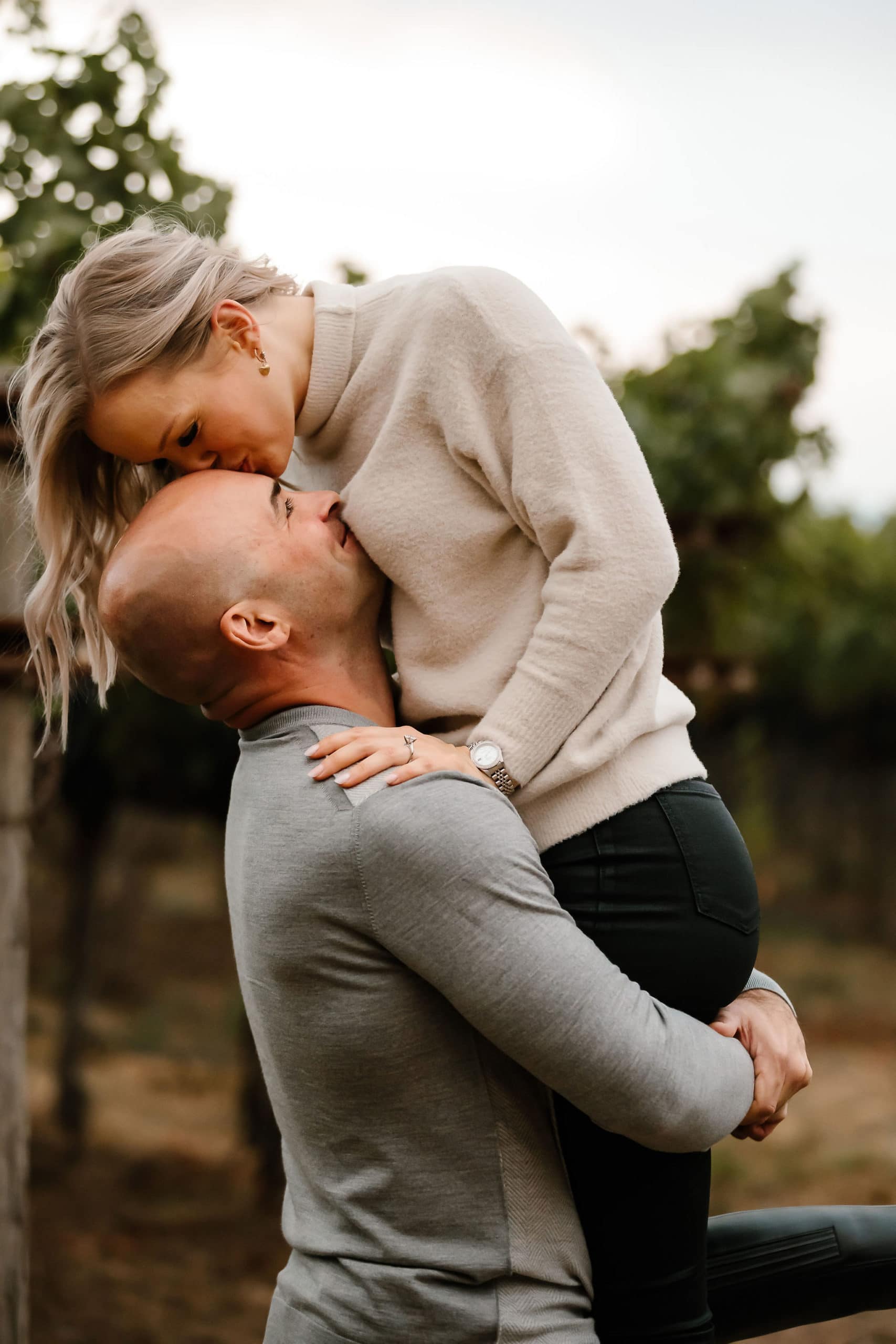 Proposal planned by Blissful Events. Photo by Amy Little Photography.
---
Step 2. Idea Creation & Planning
We will talk with you to learn what you envision and what is most meaningful for you as a couple. Your fiancee will receive a one-of-a-kind proposal.
Step 3. Your Love Says "YES!"
On the day of the proposal, we take care of the details so all you have to do is show up, get down on one knee and propose.
Winery Proposal Planning Consultant
Hi, I'm Samar Hattar, the Founder of Blissful Events, a luxury wedding planning company based in California's beautiful Wine Country. I've been featured all over the world for my stunning events, and I'm now excited to offer you a limited opportunity to work with me to plan the perfect proposal.
Imagine whisking your fiance to be off for a romantic mini-vacation to Wine Country, where you're booked into a gorgeous winery estate to wine and dine your future fiance in stunning surroundings. You take long romantic walks, and you take advantage of the sumptuous wine and food we have to offer.
And… in the ultimate surprise, on one of those walks…you have a pre-planned and beautifully executed proposal against a stunning backdrop and captured by a world-class photographer, to make the moment everlasting.
Imagine how much your partner will love that?
All of this is within your grasp! I'll take care of the details for you and ensure that the proposal is meaningful to you as a couple, and it's one that is surprising and wonderful in every way.
And because I know the area so well, I will be able to organize the perfect accommodation, transportation, food and wine packages and everything you need to make this the most incredible moment of your lives yet…
If this sounds amazing, let's talk.
I'm offering a limited number of spaces to plan your romantic proposal in Wine Country with me.
Click the button below and let's chat. I look forward to hearing your story.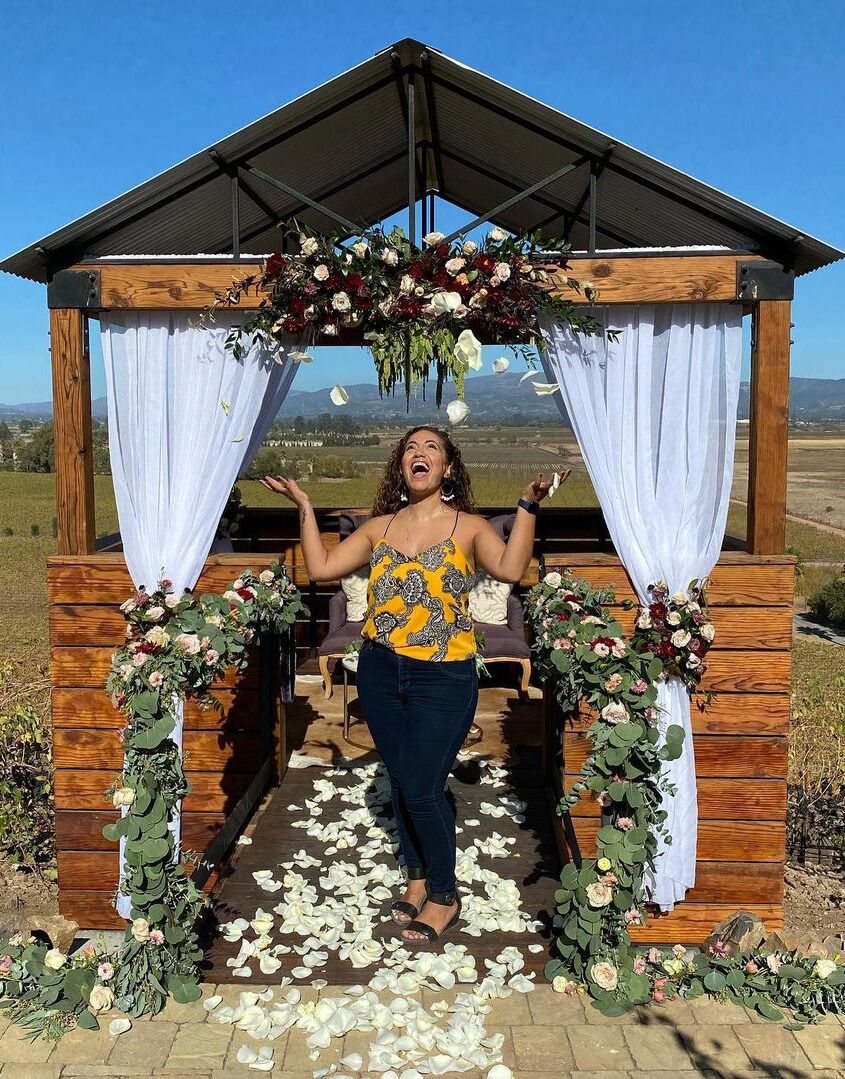 By Blissful Events. Photos by Rhee Bevere & Amy Little Photography.
---
Hot Air Balloon
Hot air balloon ride over Wine Country. The basket will be equipped with champagne for you to toast. You pop the question mid-flight. Most hot air balloon rides happen early in the morning so we can even setup a sunrise ride to add to the majestic scenery. Your balloon ride will also have a photographer, whom your partner will think is just there as a passenger who is taking photos of the views.
Scavenger Hunt
A thoughtful scavenger hunt is sure to make any proposal fun and memorable. The more creative, the better. With a few clues hidden throughout wine country or even at a winery, you can create the most sentimental and exciting day for your proposal. For a little extra surprise, include some friends and family at each location. When your fiancée-to-be finally reaches the final clue, all of your loved ones will be there as you pop the question!
The Perfect Walk
After a fun wine tasting, you and your fiancée will take a walk in the vineyard to look at the gorgeous plants. You come across a picnic filled with flowers, champagne and fun foods. There is a sign with your partner's name on it. As they read the sign, you get down on one knee….and the rest is history. A photographer will be hiding in the vines documenting the whole thing.
The Cabin
A well kept secret of the bay area is a part of a ship that's been re-salvaged from 1866 and placed waterfront in Marin County. This stunningly private room that's drizzled in 22 karat gold is the perfect venue for a proposal. As you arrive with your love to this romantic venue, your partner will think you are there for the view, but little does he/she know that a harpist and perfectly-set, candle lit, privately caterered dinner awaits you.
Proposal planned by Blissful Events. Photo by Carmen Alvarez Photography.
---
Click through this gallery. Proposal planned by Blissful Events. Photos by Amy Little Photography.
---
Movie Buff
Rent out a private movie showing room and take arrive to watch your favorite movie. Upon arrival, you find seats in the dark. The movies starts and the screen shows "Will you marry me ___________________?" Then you get on one knee. When you get a YES! the lights are turned on and you are sounded by family and friends.
A Special Sparkle
As you arrive to your private wine tasting at a perfectly picked winery, your fiancée-to-be ends up with a very special wine glass. This one has a that something extra sparkly hanging from the stem.
Baby It's Cold Outside
Buy a lovely new coat for your fiancée-to-be and put the ring in the pocket. Present the coat before you go out to your amazingly preset dinner plans at the perfect wine country location.
Have Your Cupcake & Eat It Too
Wine Country has so many lovely bakeries. We will pick the perfect one and place a "very sparkly decorative piece" on top. When you arrive to the bakery, you show your partner the perfect cupcake in the display and pop the question. A perfectly staged photographer will be there to catch every moment.
Traffic Jam
As you two drive to a what your partner will think is a wine tasting, a perfectly placed sign will hang from an overpass that reads "Will you marry me __________________________________?" You then stop the car and pop out that amazing ring! Then you arrive at your said wine tasting where you are greeted with a champagne toast and a private tasting and tour to celebrate.
Dinner & Dancing
Enjoy a beautifully executed dinner under the stars in the perfect wine country vineyard setting, where you are accompanied by a violinist, sunset and a perfectly presented, privately catered dinner. After dancing under the stars, get down on one knee and pop the question!
Book Nerd
Find a first edition of your fiancé to be's favorite book. But this book comes with a very special bookmark. The ring!
Vino Please!
As you tour a stunning winery, you go into an amazing wine cellar where you tour guide will ask your partner to look carefully at the bottles and find the one that doesn't match. This is where your favorite bottle of wine will be engraved with your names and the date. When your partner finds the bottle, this is your cue to get down on one knee! Meanwhile, a photographer that pretends to be a winery worker will capture the whole thing.
By Blissful Events. Photo by Amy Little Photography.
---
Proposal planned by Blissful Events. Photo by Amy Little Photography.
---
Where Are My Keys?!
Place the ring on your love's keychain and hand him/her the keys and watch their face as they notice the new addition to their keychain.
The Rooftop
Wine Country and the entire Bay Area is filled with stunning views. We rent out a rooftop in Wine Country or San Francisco at sunset. You and your fiancé-to-be arrive for what your partner thinks is a bar and you're simply getting a drink before dinner. When you get to the rooftop, a musician starts to play your song, rose petals are scattered and candles are lit. You take a knee and pop the question at this perfect location. Then when you hear a "YES!" the photographer comes out of hiding and takes photos of you while dinner is being prepared for you. Dine under the stars with your love.
Proposal planned by Blissful Events. Photo by Amy Little Photography.
---
Puppy Love
Take your partner to a volunteer day at the puppy shelter. When you arrive, the receptions shows you to a "puppy in need" of your attention today. This adorable pup will have a ring on its collar for the love of your life. Blissful Events will not be held responsible if you end up adopting the pup that day! =)
Island Living By The Bay
A limo takes you and your lovely partner to Treasure Island in San Francisco where you have that stunning SF city line view. Candles are set to lead your path to a picnic bench with champagne for you to toast. You take a walk with your love, and pop the question at the time that feels right. You'll be followed by a photographer that takes photos of the whole thing.
Rocks and Rocks
Wine Country is known for its amazing hiking trails. You take your fiancé-to-be on a hike. While you stroll the woods, you come across a very interesting looking rock. As you point it out and your partner examine it, you find out it's a fake rock (the one that holds keys and are placed in the yard). You partner opens the fake rock to find "the real rock/ring" inside.
Event planned by Blissful Events. Photo by One Love Photography.
---
Boat Ride At Sunset
You arrive to a privately rented boat ride at sunset. As you and your lovely partner cruise around the bay with the San Francisco skyline and Golden Gate Bridge lights around you, you pop the question in the midst of this romantic setting.
The Headlands
Take your partner for a walk along the Marin Headlands where you get to see the gorgeous San Francisco Golden Gate Bridge in the background. Pop the question as you two explore the sites and are secretly being photographed. Then to celebrate, a perfectly planned dinner in Sausalito, a romantic little town by the SF bay, will be waiting for you.
The Opera
You arrive to your hotel and your partner finds a new dress/suit in the closet. They put it on and get dressed up. A limo then picks you both up and takes you to the opera, where you propose during intermission.
You Know What They Say About Oysters
You whisk your fiancé to be off to Tamales Bay, known as oyster heaven! When you order a delightful oyster platter, it arrives with an extra gift. A perfectly placed ring atop one of the oysters. A photographer that pretends to be a fellow diner, captures every moment.
"Marry Me" Path
You arrive at a winery where your partner sees a path with labels reading "Will you marry me?" that line the path of the wine cave. Each bottle has one letter on it. At the end of the path there is a large bottle with a ring on top of it. When your partner turns to you, you will be down on one knee. When you hear "YES!" a champagne toast will pop and the celebration begins.
Take A Hike
The bay area is known for its amazing redwood trees. You two go for a hike and as you walk, your partner will find a banner hanging from the redwoods that reads "This way to a blissful life." At the end of the path, a romantic picnic finds you with wine, lovely snacks to pair and a gorgeous sparkly ring! A photographer lurks behind you as you take your short hike to bliss.
Relaxation
Arrive to the perfect day spa where you are treated to a couple's massage, a day of soaking in mineral water pools and drinking delicious wine. After your amazing retreat, you come to your room where candles are lit, the room is showered with roses and rose petals and a violinist awaits you. When your partner walks in, he/she is so surprised and when they turn to you, you are down on one knee.
A New Wine Vintage
You invite a few favorite family and friends to go to a wine tasting weekend together. You have your fiancé to be meet you with friends at winery because "you forgot something at the hotel and are running late." When your partner arrives to the winery, they are told by the staff that a new wine vintage was released today and they will be the first to try it. The staff member goes to the cellar to bring out the bottle and out you come dressed to the nines with a ring.
Event by Blissful Events. Photo by T.J. Salsman Photography
POP THE QUESTION PACKAGE
Our Pop the Question package is an all-inclusive marriage proposal package that will sweep your partner off their feet. Our winery proposal packages include:
Choice of venue from our A-List of hidden gems throughout the California Wine Country.
Professional wedding photographer to capture the perfect "I Do" moment for one hour, including an online gallery.
Sparkling wine toast for all guests.
Meeting with a planner to blissfully personalize the event just right for your future fiancee's personality, for up to one hour.
Reservations at the perfect restaurant to celebrate your love – meal and beverage fees not included.
Picture perfect event for up to 2 hours.
Want to know more? Talk to us about our proposal package? Call us at 415-497-2280, email samar@blissfuleventplanning.com, or fill out the online form.
Proposal planned by Blissful Events. Photo by Amy Little Photography.
---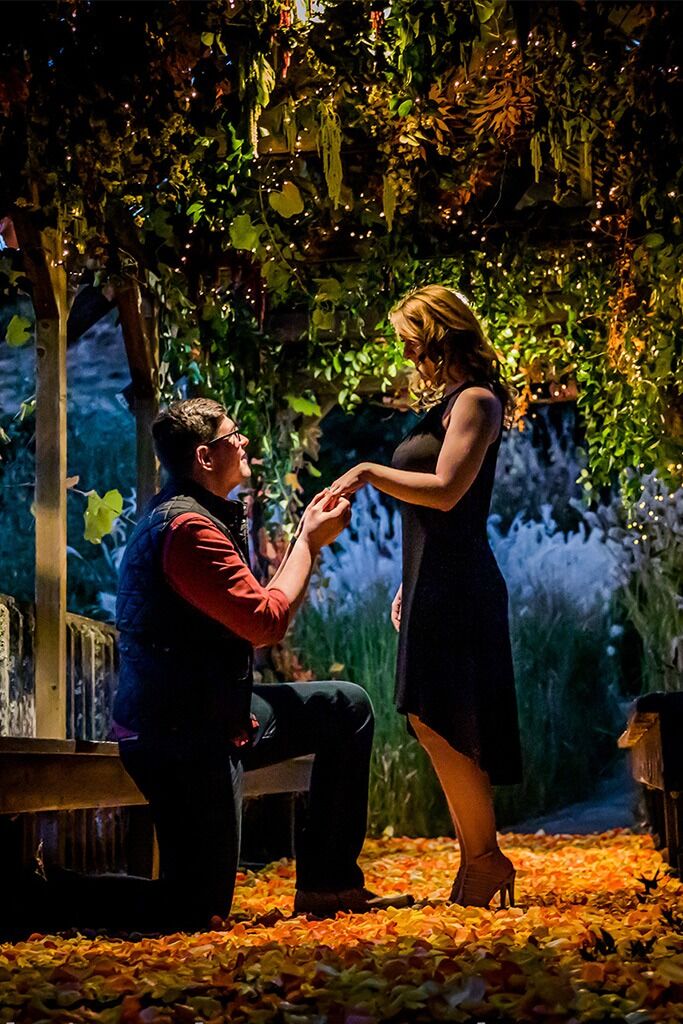 Proposal by Blissful Events. Photo by Christophe Genty Photography.
Let's Plan Your Dream Proposal