Event by Blissful Events. Photo by Jessica Schmitt Photography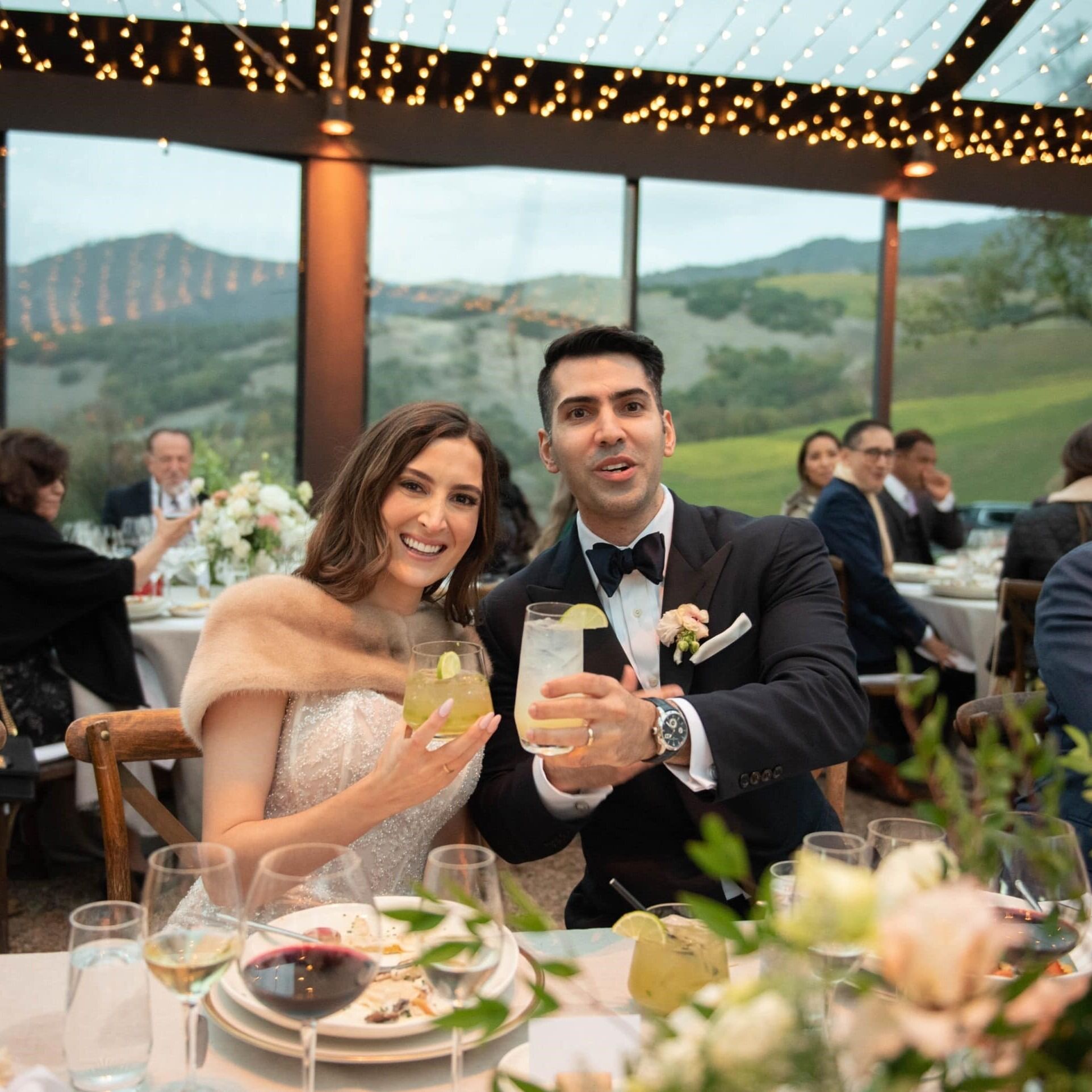 Wedding planned by Blissful Events. Photo by Jessica Schmitt Photography
A Kunde Winery wedding is the quintessential wine country event, from the mile-long wine cave built into the hillside beneath a Syrah vineyard to the 365-degree views of Sonoma Valley that can be seen from the summit of Boot Hill.
When I work with couples that choose a Kunde Family Winery wedding or engagement, they often say that the venue chose them. Magic and romance are as deeply rooted in this 1,850-acre estate as its towering grove of Valley Oaks. For more than a century, the Kunde family has cultivated a legacy of sustainability and a deep connection to the land—which makes it an ideal spot for couples declaring their enduring connection to one another.
With the dramatic beauty of the Sonoma Valley as a backdrop, the Kunde Family Winery is where elegance meets nature. It's a space to be cherished—and one of my favorite wedding venues in Northern California for couples who want exclusivity, privacy, laid-back luxury, and to be embraced by the glow of a wine country experience.
KUNDE California Wedding Venue
Price: $$$
Location: Glenn Ellen, California
Guest Count: 10-200
Indoor/Outdoor: Both
Type of Venue: Winery, wine cave, garden, hills
Type of Event: Ceremony and reception
Aesthetics: Scenic, vintage chic
Website: https://www.kunde.com/
Photo by Jessica Schmitt Photography
---
Event by Blissful Events. Photo by Jessica Schmitt Photography
Discover the Ultimate Wine Country Wedding Venue: Kunde Family Winery's Wine Cave and More
In the heart of the Sonoma Valley and surrounded by miles of rolling hills and greenery, Kunde Family Winery offers four romantic and one-of-a-kind event spaces that can host all styles and sizes of weddings, from intimate gatherings to full-scale celebrations.
Perched on the steps of the Mayacamas Mountains, Boot Hill, the largest on-site venue space, boasts panoramic 360-degree views of awe-inspiring sunsets and starry nights. Secluded and dreamy, a towering grove of Valley Oaks can envelop up to 250 guests. This exclusive location will transport you and your guests to a bubble of privacy and love.
Couples can celebrate their love in a space as deep as their feelings in the VIP dining room in the wine-aging caves carved into the hillside behind the winery. Set 175 feet below the Syrah vineyard, this intimate space is the ideal setting for a welcome party, rehearsal dinner, or proposal.
Back in the world above sit the Hill House and Winemaker's Plaza. From the craftsman-styled Hill House's redwood-paneled ballroom, guests can dance the night away with views of the sun setting over the Sonoma Valley. Winemaker's Plaza, located just outside the Tasting Room, will keep the wedding close to the winemaking experience and the beautiful hills and vineyards.
Designed to highlight the surrounding landscape's splendor, all of Kunde Family Winery's event venues offer an elegant backdrop for couples to make their own.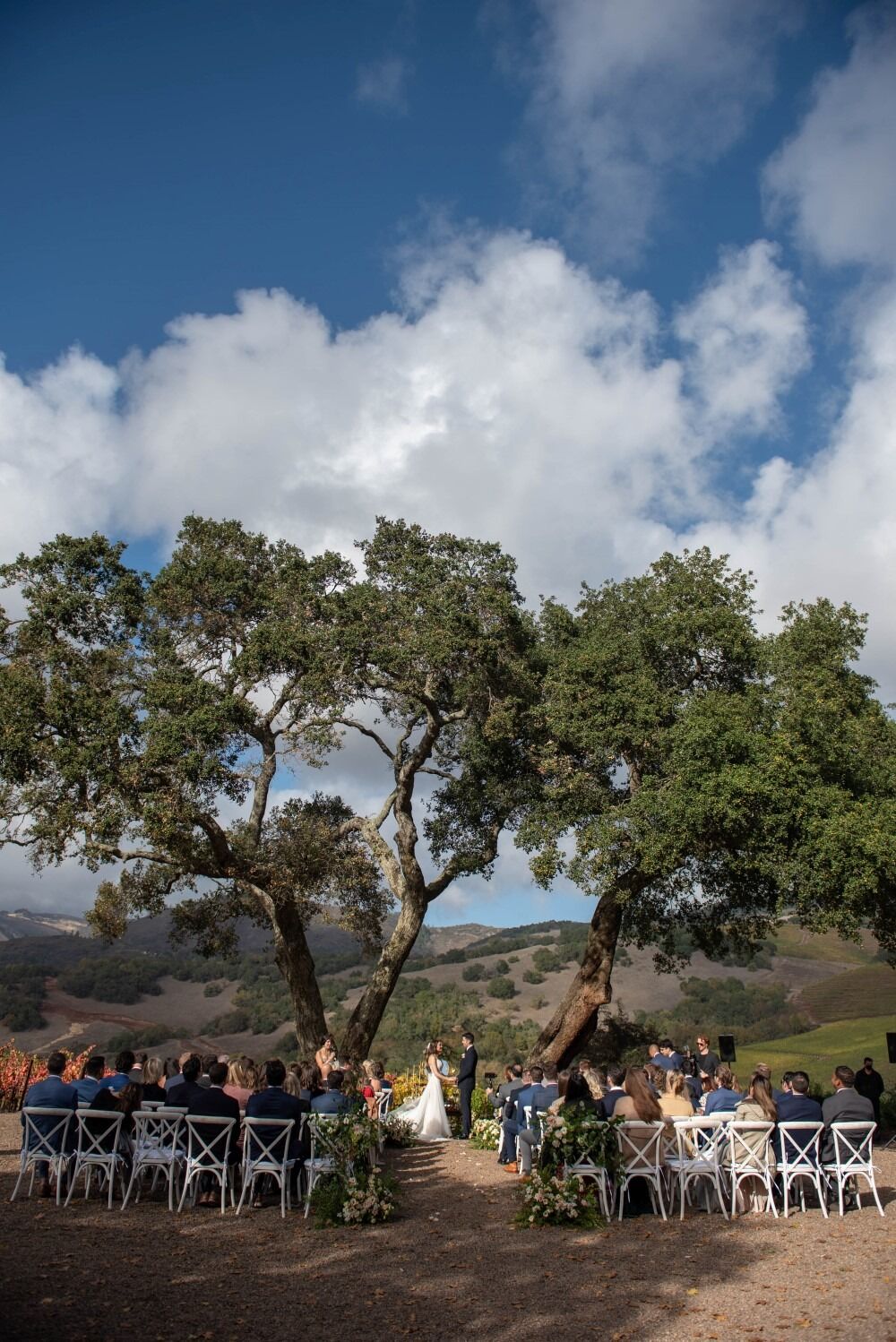 Wedding planned by Blissful Events. Photo by Jessica Schmitt Photography
---
A Dream Come True for a Dallas Couple at a Stunning Sonoma Valley Wedding Venue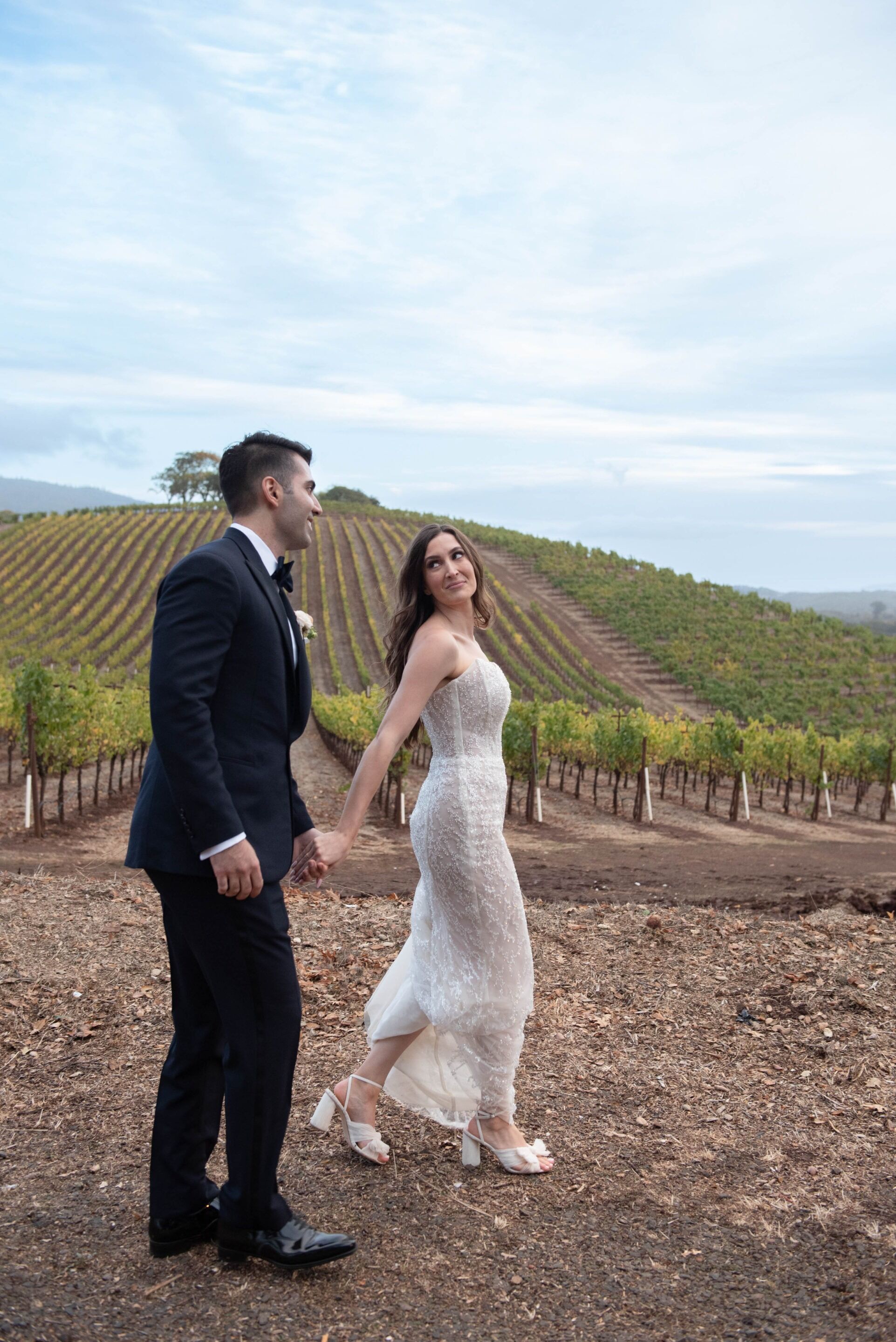 Wedding planned by Blissful Events. Photo by Jessica Schmitt Photography
---
When I met Lauren and Cyrus, I knew their wedding would be as genuine as their love and filled with just as much joy. I also love the story of how they met—they were probably the last couple on Earth that would ever meet at a club!
I'm inspired by the couple's everyday lives when designing and planning an authentic wedding. So, Lauren and Cyrus flew me to Texas to experience a typical date night at their favorite sushi restaurant, Yutaka Sushi Bistro. Watching what makes a couple's eyes light up can also be a source of inspiration—and when I took Lauren to Kunde, her eyes sparkled at those rolling hills covered with grape vines and iconic wine country views.
Moved by the beauty of nature that surrounded us, we created a soft, romantic, and elegant design to enhance it. For example, we brought in a clear tent with twinkling lights, allowing guests to dance under the stars and bask in the magic of the night.
Although Cyrus made only one request—the Northern California location—Lauren created surprises for him throughout the big day, like a groom's cake that looked like his favorite sashimi from Yutaka. The reception featured pancakes and champagne to reference the couple's inside joke about the night they first met.
Lauren and Cyrus promised forever in a Sufreh—a Persian ceremony. The Blissful Events team shook sugar over them to add sweetness to their lives and watched as they fed each other honey. Their wedding was a true celebration of love, romance, and the magic of Kunde Family Winery. It was an honor to be a part of their special day, and I will always cherish the memories we created together.
– Samar Hattar, Blissful Events Founder
A Proposal to Remember at Kunde Family Winery
Kunde is also a picturesque place to write the first chapter of a couple's wedding story—precisely what Robert wanted when describing his dream proposal to Evelyn.
The Blissful Events team helped him stage a surprise proposal between two majestic trees on Boot Hill. We adorned the trees with stunning decorations, transforming the area into a magical and romantic setting.
A photographer disguised as a member of the vineyard's crew captured every moment as Robert dropped down on one knee, and Evelyn said yes.
Following the proposal, the newly engaged couple retreated to the charming wine cave, where they celebrated their love amidst the aging barrels. The winery's serene surroundings and the couple's joyous love made for an unforgettable experience.
– Samar Hattar, Blissful Events Founder
Wedding planned by Blissful Events. Photo by Richard Wood Photographics
---
A Wedding Planner You Can Trust
At Blissful Events, we love love and want to help you celebrate your love exactly as you've always dreamed. I am passionate about planning beautiful, magical, luxurious—yet laid-back—weddings and helping couples celebrate their love in the most extraordinary way possible.
I understand how important your wedding day is. My team offers unparalleled expertise and experience as a full-service wedding planning company. From selecting the perfect venue—such as the breathtaking Kunde Family Winery—to day-of coordination, we are with you every step.
As a Certified Lovegevity Wedding Planning Institute Wedding Planner and Instructor, and Board Member of the International Live Events Association, I am committed to providing exceptional attention and care. I want to ensure that your big day is everything you have always dreamed of.
Working alongside my expert team and me, you can look forward to joyful and stress-free wedding planning.
By Blissful Events. Photos by Rhee Bevere & Amy Little Photography.
---
I love connecting with couples and making their dreams a reality. I can't wait to connect with you.
Step 1. Book A Consultation
Whichever wedding planning stage you're in—Blissful Events can't wait to help. Call 415-497-2280 to speak with me, or schedule an appointment to learn more about our personalized weddings and wedding packages.
Step 2. Establish Your Wedding Vision
Working with our team, you'll determine what's most important to you—from the venue to the smallest details. My team of experts and I will curate each piece and bring your big day to life.
Step 3. Enjoy A Stress-free Wedding Day
Blissful Events will create the chic yet laid-back, luxury wedding you've always dreamed of, leaving you with nothing to do except get married and have a fabulous day.
Let Us Plan Your Wine Country Wedding
If you're looking for a luxurious-in-all-the-right-ways wedding, the Blissful team is already on board with your vision! Book a consultation today so that we can plan your dream day together.
Photo by Christophe Genty Photography.
Let's Plan Your Dream Wedding